Background
Flight Plastics required a system which could record customer orders, schedule production, and track the progress of the orders in their factory. Once orders were produced, the system needed to track stock ready for delivery and then track dispatches in real time. They already had a bespoke system which was doing some of these things but were frustrated by their service provider as change requests were slow, and they didn't own the IP.
Seeking a new software partner, they contacted us with a brief to develop a new system which would work perfectly for their business. After years of frustration with their previous system, it was vital that the project be implemented smoothly. Understandably, they wanted to own the IP to the system which was intrinsic to their business, and they needed to know their new service provider would be available for support 24 hours a day.
Once our consultant had visited them on site, we could immediately see how the "bespoke" system they had wasn't fit for purpose. The system had been adapted over years and had veered away from what a truly bespoke system should be.
What we Delivered
We delivered a web portal that could be used by office staff from any location and on any device. Office staffs' main responsibilities are to process the orders from receipt to delivery. The ability to schedule the production and delivery of orders in parts rather than as a whole was also built into the system as this was a frequent occurrence.
At the factory level, we delivered a desktop app, with a touchscreen interface that ran on terminals each showing a different production line, but with the ability to choose a different line at any time. Factory operatives were able to allocate the work across the productions lines and indicate how much has been produced so far and this information was fed instantly back to the office.
An Android app was delivered for the warehouse, that used a barcode scanner to allocate a pallet or individual roll to a scheduled delivery, making adding to deliveries 'a point and click exercise'. As Wi-Fi was not always available in the warehouse area, updates were saved locally and then transferred to the main database once Wi-Fi was available again.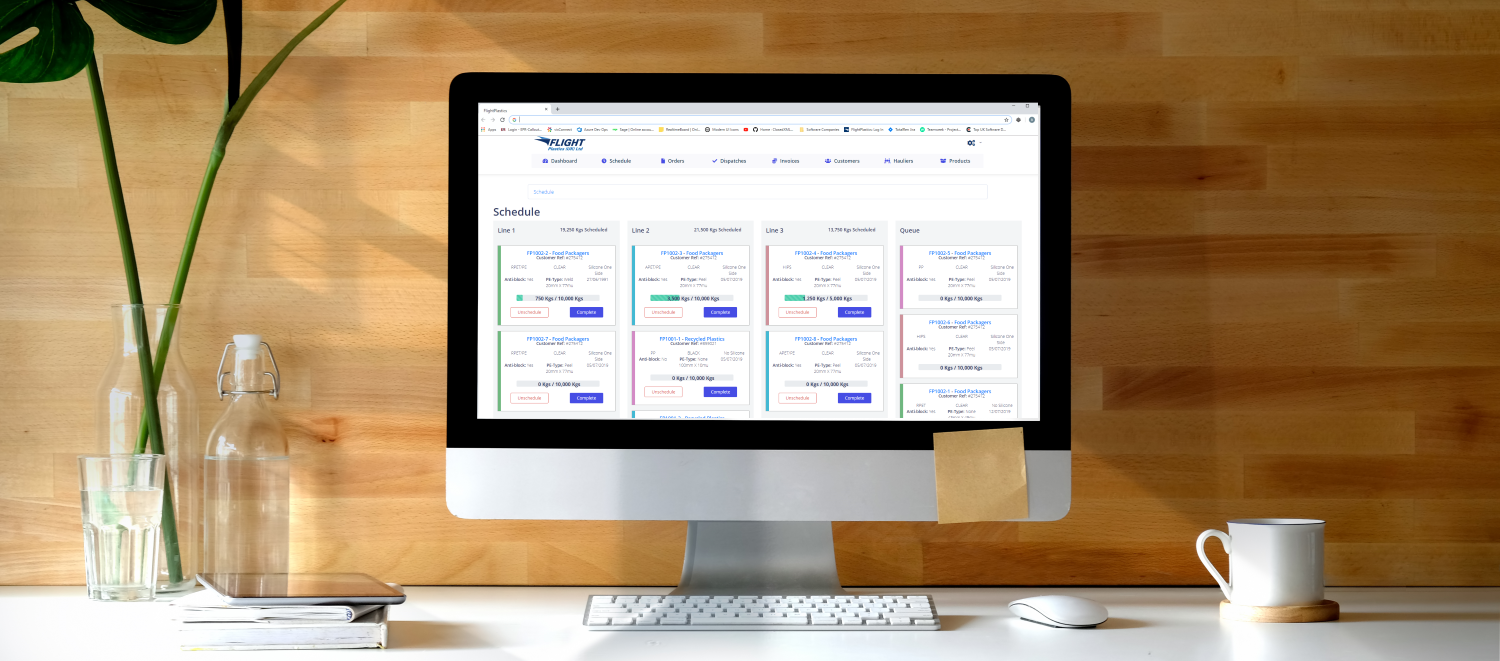 The Results
Security was tightened up, as staff members were only allowed access to the relevant areas of the system due to our role-based permission system. Factory operatives would be logged out due to inactivity after a period of time, which would mean they could carry on viewing, but would have to log in again to modify, thus minimising the risk of one user making modifications under another users details.
Overall production increased as staff were able to schedule and monitor orders more efficiently in the office. The touchscreen terminal interface software, made it easier for operatives to update what had been produced. Warehouse staff found they no longer had to redo work, which used to be a frequent problem when Wi-Fi was not available, with their older system.